Basic information
Load: 2000 kg
Max lifting height: 12000 mm
Fork length: 1150 mm
HS code: 8427102000
Certificate: CE/SGS/ISO9001
Detail features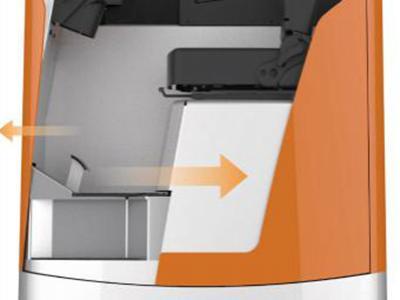 1. Wider area for the leg
The legroom of the operating position is ample, allowing the operator to move flexibly. They will feel comfortable without worrying about being cramped.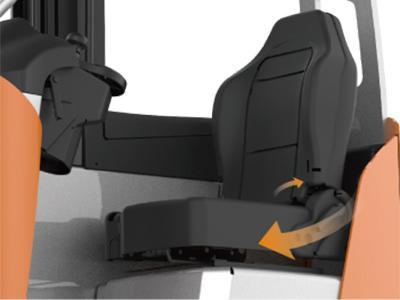 2. Sitting type operation
The seat is adjustable. The soft seat can relieve fatigue and provide a safe and comfortable driving experience for operators.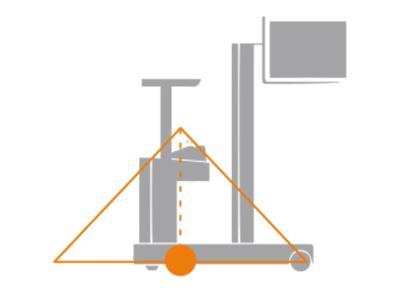 3. Design of low center of gravity
The design of low center of gravity can ensure stability of the truck so that it is anti-overturning even in complex working conditions.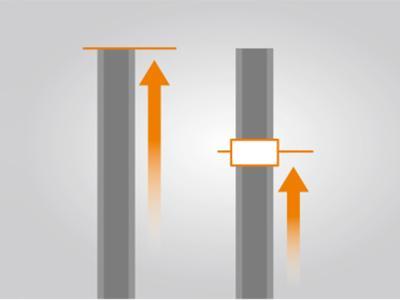 4. Lifting height limit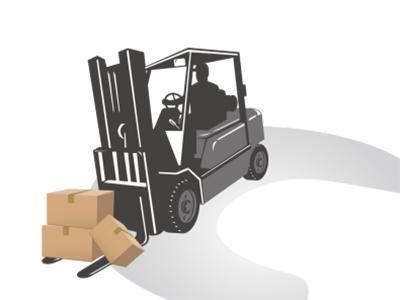 5. Turning speed limiting device
The precise high speed limiting turning control technology can prevent side overturning, thus protecting the goods from dropping.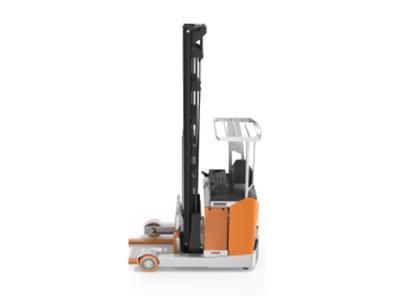 6. Good lifting ability
The max lifting height is 12000mm which can satisfy the requirements of goods stacking in certain height.
7. Front moving function
The fork can move forward for 590cm which can reduce turning radius of the truck as well as ensuring running stability.
8. This reach truck has a small turning radius which is only 1700mm, so that it can move flexibly even in tight warehouse and workshop areas.
9. The fork can tilt forward and backward for easy loading and unloading of goods and material, thus improving the transporting stability of the reach truck.
10. Forged fork
The width of the fork can be adjusted within the range of 200-760mm. It is suitable for working conditions with single side pallets, double side pallets, or no pallet.
Structural Drawings
Parameters
Product type
FRB2090
Driving mode
Electric
Operating mode
Sitting
Rated load Q (kg)
2000
Load center C (mm)
600
Distance between center of bogie wheel to vertical end of the fork, retracted gantry/extended gantry X (mm)
208/385
Wheel base Y (mm)
1520
Dead load (without battery) (kg)
3058
No load on axle (bogie/drive) (kg)
1270/2496
Full load on axle with retracted gantry (bogie/drive) (kg)
3852/2214
Full load on axle with extended gantry (bogie/drive) (kg)
5300/766
Wheel
Tyre
PU
Driving tyre dimension (mm)
Φ343x140
Bogie tyre dimension (mm)
Φ300x100
Tyre number (x=driving tyre) driving tyre/bogie tyre
1x/2
Front gauge (mm)
/
Track rear (mm)
1146
Basic dimension
Closed height h1 (mm)
3726
Overhead guard height h5 (mm)
2190
Seat height h6 (mm)
1000
Wheel arm height h7 (mm)
327
Total length l1 (mm)
2535
Fork length l2 (mm)
1385
Total width b1/b2 (mm)
1250/1230
Fork dimension s/e/l (mm)
50/100/1150
Fork frame ISO2328, level/type A, B
2/A
Fork frame width b3 (mm)
784
Spacing of forks b4 (mm)
200-760
Inner width of truck leg b5 (mm)
920
Reach distance (l3)
590/555
Min ground clearance (mm)
80
Right angle stacking channel width, pallet 1000x1200 (1000 along the side of the fork) Ast (mm)
2829
Right angle stacking channel width, pallet 800x1200 (1200 along the side of the fork) Ast (mm)
2878
Turning radius (mm)
1770
Truck length (mm)
1940
Fork tilting angle (°)
2/4
Performance
Moving speed full load/no load (km/h)
10/10
Lifting speed full load/no load (mm/s)
0.3/0.4
Descending speed full load/no load (mm/s)
0.5/0.4
Max gradeability full load/no load (5min)
5/8
Brake mode
Electromagnetic/hydraulic
Driving motor power (60min) (kw)
6
Lifting motor power S3-15% (kw)
13
Storage battery voltage/capacity (V/Ah)
48/600
Storage battery weight (kg)
1008
System pressure (Mpa)
16.5
Noise dB (A)
<75
Gantry configuration
| | | | | | | | | | |
| --- | --- | --- | --- | --- | --- | --- | --- | --- | --- |
| Closed height | h1 | mm | 3726 | 3556 | 3386 | 3216 | 3046 | 2876 | 2706 |
| Free lifting height | h2 | mm | 2872 | 2712 | 2552 | 2392 | 2232 | 2072 | 1912 |
| Lifting height | h3 | mm | 9000 | 8500 | 8000 | 7500 | 7000 | 6500 | 6000 |
| Max height of the gantry during working | h4 | mm | 9854 | 9354 | 8854 | 8354 | 7854 | 7354 | 6854 |
Index
forklift, lift truck, pallet jack, pallet stacker, pallet lift, narrow aisle forklift